Isolon 500 - GENERAL DESCRIPTION.
Written by Admin
ISOLON 500 is sanitarily pure, steadily elastic, closed porous at the low density from 30 to 200 kg/m3, almost steamproof and low-hygroscopic, with very low percentage of water absorption - less than 1 per cent (on volume) the good heat insulator and protection from noise from a blow sound transmission which possesses high resistance to atmospheric actions including to ultra-violet radiation, doesn't lose flexibility and elasticity at - 600C, maintains a long time of influence 1250C.
In addition ISOLON possesses good microbiological, oil, petroleum-oil and benzine resistance, it can be combined practically with any building materials.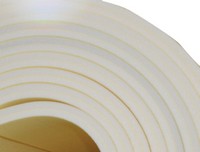 ISOLON serves as warm, a soundproofing substrate under a parquet and various floor coverings, consolidation of joints, doors, windows against a dust, noise, moisture, a covering material for concrete hardening, protective and shock-absorbing packing for household and audio/video equipment, devices of different function, furniture, products from glass and ceramics, a packing material of various thickness and density in bags, backpacks, folders and so forth.
Production of the trademark ISOLON answers the highest standards according to the technology of production and quality, possesses all important characteristics in warm, sound-, vapor -, noise isolations, is a professional material in different of spheres of its application. Thanks to the properties the material finds the application in the most different spheres: from the production sphere in the field of tourism, sports and rest till the capital building, the industry and automotive industry.
Scroll to top
Copyright © 2008 - 2023 AMG group All Rights Reserved.