Sports tatami. Budo mats
Written by Admin
     Tatami "swallow tail".Tatamis from Isolon are easy, solid and elastic, perfectly absorb blows and soften fallings. Isolon's excellent heat-insulating characteristics of froth foampolyethylene allow to spread them out tiled and concrete floors, even the earth. Tatamis from Izolon are hygienic and hippoallergic. They are created for repeated assembly – dismantling.

     Modern tatamis – a sport shock-absorbing covering for exercises by different types of single combats, for training and competitions in a kung fu, karate, hand-to-hand army fighting, taekwondo fight, wushu fight, judo, aikido et cetera. It is easy to collect them, they are simple in service. The flooring gathers and fastens between themselves as a puzzle or "swallow tail".
     Tatamis with fastening "swallow tail"; are perfectly suitable not only for gyms, but also for creation of a children's game zone of any size. This attractive, comfortable and warm covering is perfect for a nursery. It is like meccano easily moved away in a case of arrival of guests, if necessary to clear a floor or to transport them, in summertime to country house.

Tatami sports, wrestling carpets.
Specialized tatamis for sports or mats for a wrestling carpet – the flexible elastic floor covering applied to daily trainings and competitions in various types of single combats and gymnastics. They are made from multilayered Isolon 500 and Isolon 100 in the form of mats 1х2 m. with the subsequent collecting in a flooring of the necessary square of a covering. Isolon's layers of different density as a filler allows to reach uniformity in distribution of dynamic loadings, protecting athletes from injuries. Isolon for safety is sheathed by specialized material, the surface of a mat adjacent to a floor is sheathed by nonskid material.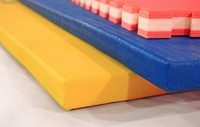 We cooperate with the largest shooting and sports clubs. We invite to cooperation. 
Deliveries to any point of Western and Eastern Europe from warehouses in the Czech Republic and Belarus.
Scroll to top
Copyright © 2008 - 2023 AMG group All Rights Reserved.